THE HISTORY

OF MTB FRAMES
Next year we will have celebrated the 20th anniversary of Zumbi Cycles in Poland. On that occasion we would like to present in our article the range of past models of the Zumbi frames to show you the characteristics of those days. Was our approach innovative?
The Zumbi frames are becoming real collector's items. Should you have the models from the old times, do send them for renovation in order to increase their value. Please contact: [email protected] – to do okna mailowego
In 2019 a big auction event will be organized. Not only will you be able to resell your model but also purchase the dream one. Stay tuned for more info FB
---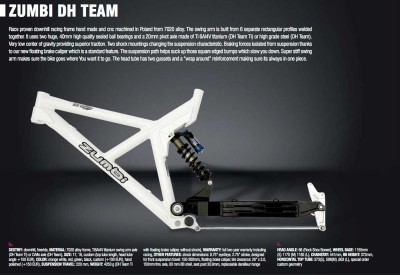 ZUMBI DH Team – Downhill – 26'
I (2001) II (2003-2004), III (2005)
Race proven downhill racing frame hand made and cnc machined in Poland from 7020 alloy. The swing arm is built from 6 separate rectangular profiles welded together. It uses two huge, 40mm high quality sealed ball bearings and a 20mm pivot axle made of Ti 6Al4V titanium (DH Team Ti) or high grade steel (DH Team).
Very low center of gravity providing superior traction. Two shock mountings changing the suspension characteristic. Braking forces isolated from suspension thanks to our new floating brake caliper which is a standard feature. The suspension path helps suck up those square edged bumps, which slow you down. Super stiff swing arm makes sure the bike goes where you want it to go. The head tube has two gussets and a; enforcement making sure its always in one piece.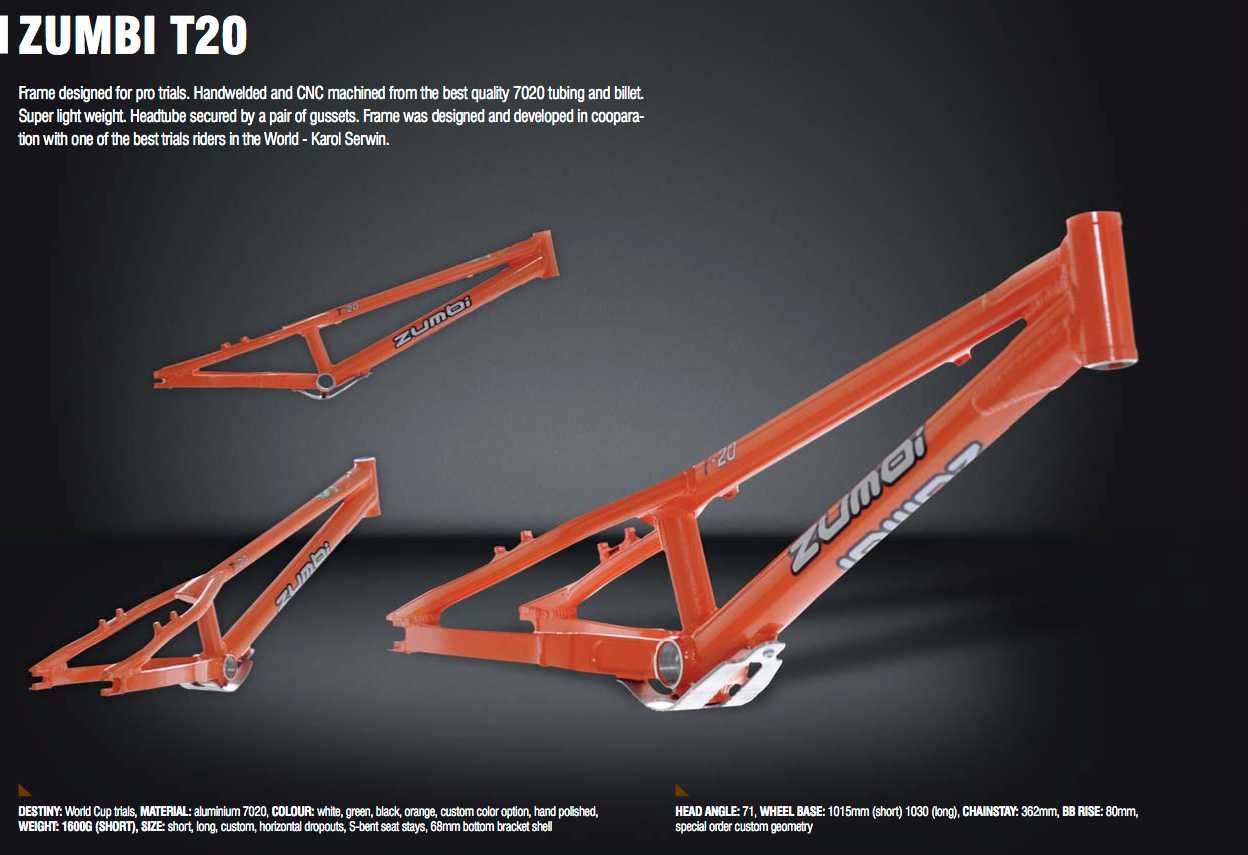 ZUMBI T-20
I (2005),  II (2010)
Designed for World Cup level Trials. Hand welded and CNC machined from the best quality 7020 tubing and billet. Super lightweight. Headtube secured by a pair of gussets. Frame was designed and developed and tested in cooperation with one of the best trials riders in the World, Zumbi Team rider Karol Serwin, 10th at the World Championships in 2009 and classified 9th overall in UCI 2009 listing.

Zumbi 4XR
I (2006), II (2008)
Zumbi 4XR frame is dedicated for 4X racing and slopestyle. Designing and development with French mountain bike superstar Romain Olmos effected in an ultra light frame with a very wide destiny.  Unique concentric floating shock CFS suspension system designed by Zumbi. Suspension can be set to 100 or 120mm travel easily with an allen key. Chainstays made from four separate tubes welded together resulting in an ultra stiff and reliable design. The concentric BB pivot makes the frame singlespeed friendly. Shock is compressed from both sides in a progressive rate preventing harsh bottoming. Shock air spring pressure is set not only to riders weight but also to rider's style.  Higher pressure for 4X racing where pedal efficiency is most important and the suspension works only when the riders makes mistakes on the new style hard core 4X racing tracks used today, Lower pressure for slopestyle applications. All pivot points use high quality sealed ball bearings. Custom made stainless steel bolts. Bos Suspension provides a specially made 120mm fork specially made for the 4XR frame. Easley built into a 12kg race ready machine.

ZUMBI Voodoo
I (2005) II (2009)
Hand welded and cnc machined from 7020 alloy. The   geometry is ideal for 4X racing and dirt jumping. The VooDoo works great as a   light freeride hardtail. Using a unique welded double profile chainstay   construction and s-bent seatstays greatly improves the VooDooís lateral   stiffness. The dropouts and chainstay yoke are pressed into the profiles before   welding. Designed to be used with a 100-130mm suspension fork. Replaceable   hanger. Headtube has two beefy gussets and a ďwrap around reinforcement making   it bombproof. High quality powder coat paintjob. You don't need black magic to   be in front of the 4X racing pack. You need a VooDoo…
Zumbi Voodoo Street
I (2006), II (2010)
Hand welded and cnc machined from 7020 alloy. The geometry is ideal for street and dirt jumping. Featuring a unique welded double profile chainstay design greatly improving lateral stiffness of the rear end. The dropouts and chainstay yoke are pressed into the double profiles and welded together. Add the heavily gusseted cnc headtube with 'wrap around' reinforcement and your looking at one of the strongest hardtail frames in the industry. Works best with a 100-1300mm suspension fork. Brutally tested by UK dirt talent Jamie Johnson. Ride it, jump it, and abuse it.
ZUMBI T-24
I (2007),  II (2011)
Designed for top-level 24Ē wheel Trials. Hand welded and CNC machined from the best quality 7020 tubing and billet. Super lightweight. Headtube secured by a pair of gussets. Frame was designed and developed and tested in cooperation with Slovak trials superstar Stefan Pcola.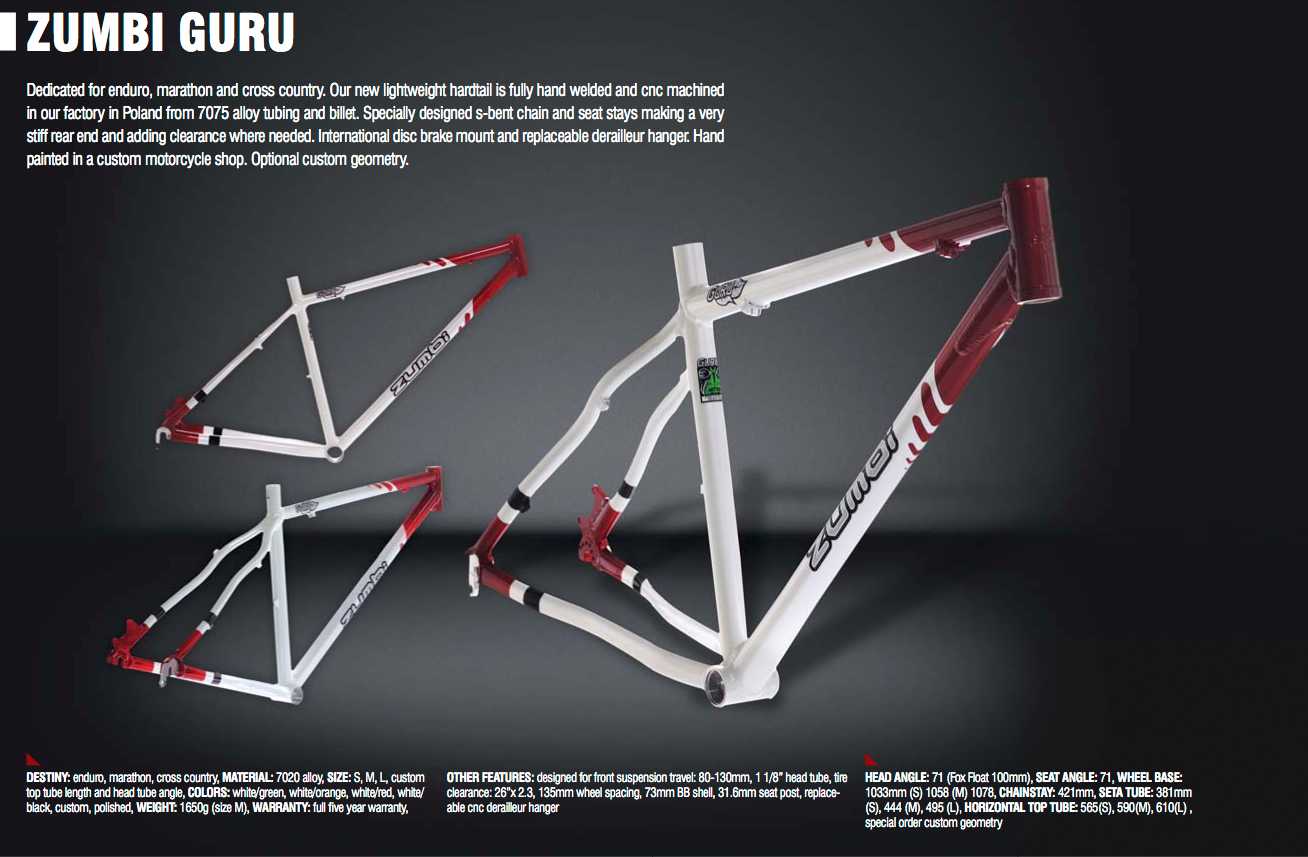 ZUMBI GURU – XC /AM / Enduro – 26 / 27.5/ 27.5+/29
I (2007) II (2011) III (2018)
Dedicated for enduro, marathon and cross-country. Our new lightweight hardtail is fully hand welded and cnc machined in our factory in Poland from 7075 alloy tubing and billet. Specially designed s-bent chain and seat stays making a very stiff rear end and adding clearance where needed. International disc brake mount and replaceable derailleur hanger. Hand painted in a custom motorcycle shop. Optional custom geometry.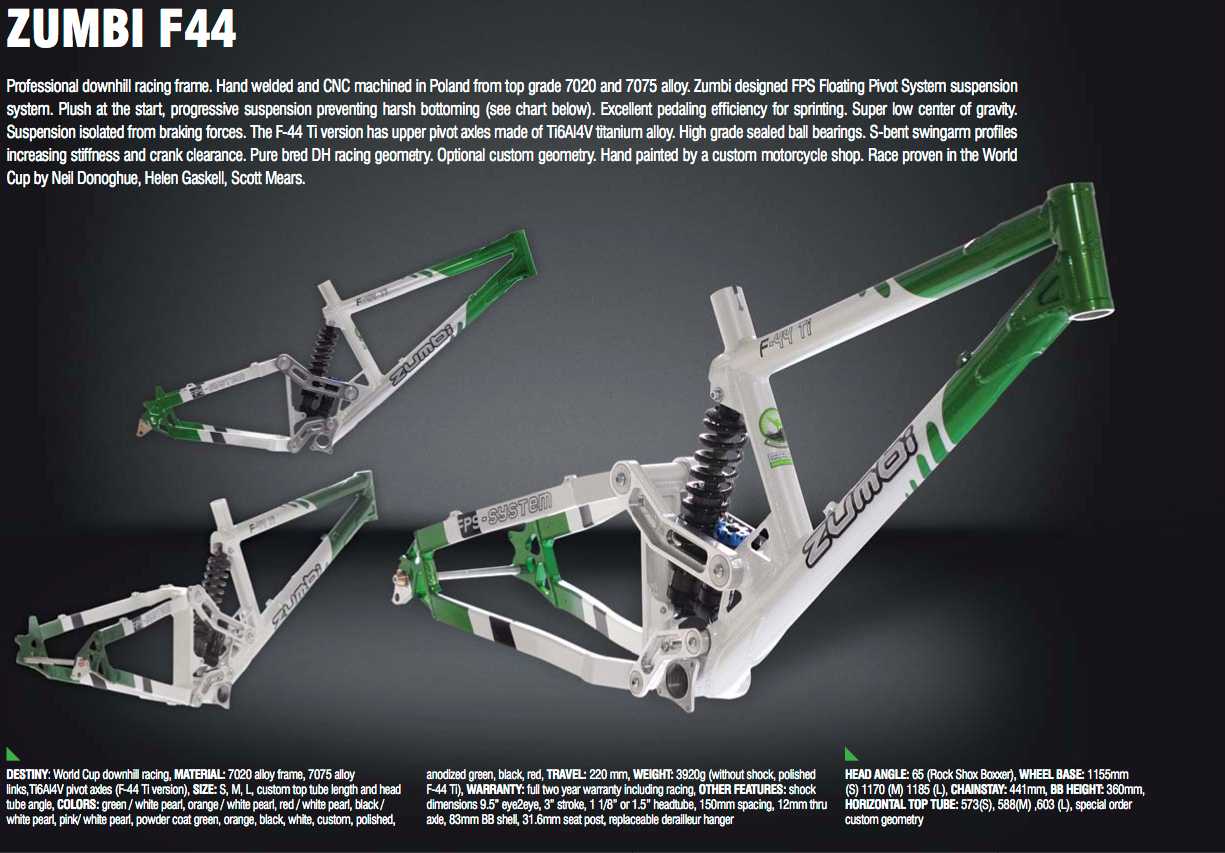 ZUMBI F-44, Downhill – 26/27.5 /29'
I (2008), II (2011), III (2014) IV (2018)
Four years of production and racing development resulted in an ultra performance DH racing frame. This year the F44 got lighter by 200g thanks to the new suspension links and other details like low profile custom made stainless steel bolts. ZUMBI designed FPS Floating Pivot System suspension system, excellent pedaling efficiency for sprinting, super low center of gravity and suspension isolated from braking forces makes this frame a winner. The F-44 Ti version has pivot axles made of Ti6Al4V titanium alloy. High grade sealed ball bearings. S-bent swingarm profiles increasing stiffness and crank clearance. Pure bread DH racing geometry with optional custom geometry. Race tested, developed and proven in the World Cup by such stars as Helen Gaskell, Neil   Donoghue, Scott Mears and multi podium finished by racers worldwide. 5 star review results in such magazines as Dirt Magazine, Velovert, Big Bike, Bike Magazine etc. Video action by Scott Mears ripping in last section along with Danny Hart in Foot Out Flat Out 2 downhill video. Frame offered with high end Bos Suspension, Elka Suspension, Fox Shox and Avalanche Downhill Suspension. Easily under 38lbs builds possible.

E-bikes – Downhill, Super Enduro, HT, AM – 26 / 27.5/ 27.5+/29
I (2009), II (2010), III (2018)
Innovate or die as they say…
Our new line of battery powered electric motor mountain bikes are a result of cooperation with Swiss genius Jurg Lanz from Boosty.ch. Jurg worked over the past 5 years on an innovative idea using his cnc machining and electronical skills to bring to life the most powerful and lightest electrical bicycle motor systems available on this planet.
These bikes can get You to the hardest to reach terrain making possible to climb steep non lift assisted slopes even on a fully built downhill bike! This concept opens up unlimited horizons to the widely named freeriding and exploring. We developed four models using the Boosty system. The E-44, E-22, El Voodoo, and El guru. New is silent motor chainring making the whole system silent. More information on www.boosty.ch
Boosty System technical
MOTORBoosty 36V-500W Pedelec 250W with Thermostat, Boosty Freewheel, Crank with Pedaled, Boosty<strong> MOTOR CONTROLLER with THROTTLEWEIGHT: E-22 bike 21kgBattery back pack (370Wh) ca. 4kg, The MOTOR LOADwith throttle is 500-600 Watt and reaches a peak of 1000W on wheel, with Pedeled 250W, RANGEwith 570Wh battery full power without pedaling around 1hour or economy with pedaling 3-4hours.
ZUMBI F-22 Super Enduro / Extreme Enduro / Freeride / Mini DH – 26/ 27.5
I (2010), II (2017)
Our fresh new design is dedicated for Freeride, mini DH and extreme Enduro with downhill performance of its bigger brother F-44. Redesigned Zumbi FPS System suspension linkage. The F22 was weapon of choice of French slopestyle and dirt star Antoinie Bizet who got it to many podiums finishes in 2010, winning such events as the famous Chatel Mountain Style. The F-22 can be built into a light mini freeride / extreme enduro bike with 140mm of travel or a more aggressive freeride, mini DH, Mega Avalanche bike with 170mm travel depending on the shock length You choose. Active suspension under hard braking. Easily adjustable head angle. S-bent swing arm profiles increasing stiffness and crank clearance. Pedal bob free. Super stiff linkage thanks to our pivot axle design. Optional Ti6Al4V Titanium pivot axles in F-22 Ti version saving weight. High quality sealed ball bearings. Dedicated to use with Truvativ Hammer Schmidt system. CNC machined details and hand welded in our factory in Poland. Optional custom geometry. 5 star magazine review results in Big Bike, Velovert and more.