Product Description
Frame without shock
The frame is also available in following colours: RED, BLACK MATT, TEAM, RAW
Prices include Tax 23% – except prices given in American dollars / SECURITY OF TRANSACTION guaranteed by Braintree Division of Paypal Company
 * Payment in American dollars is possible only with the shipment outside EU
FRAME DEDICATED FOR SUPER ENDURO
5 star ***** magazine review results in Big Bike
SERIES FOR THE RIDERS BUILDING BIKES ON THEIR OWN
Our fresh new design is dedicated for Super Enduro, mini DH and Freeride with downhill performance of its bigger brother F-44. Redesigned Zumbi FPS System suspension linkage. The F22 was weapon of choice of French slope style and dirt star Antoinie Bizet who got it to many podium finishes, winning such events as the famous Chatel Mountain Style. The F-22 can be built into extreme enduro bike, Mega Avalanche with 170 – 180mm of travel or a more aggressive freeride, mini DH, bike with 180mm travel depending on the shock length you choose. Active suspension under hard braking. Easily adjustable head angle. S-bent swing arm profiles increasing stiffness and crank clearance. Pedal bob free. Super stiff linkage thanks to our pivot axle design.
Optional Ti6Al4V Titanium pivot axles in F-22 Ti version saving weight. High quality sealed ball bearings
Frame without shock
CNC machined details and hand welded in our factory in Poland
Optional custom geometry
learn more about TECHNOLOGY // find out more about THE FPS SYSTEM // read more about  ZUMBI CYCLES
Destiny
Super Enduro / mini DH / Freeride / Mega Avalanche
Frame
F-22 180mm travel | 100% handwelded 7020 T6 tubing and 7020 cnc machined from billet parts, cnc 7020 alloy links
Shock Dimensions
eye2eye 215mm, 64mm travel
Shock
frame without shock
Cable Routing
Internal or external
Head Tube dimensions
upper cup 44mm integrated, lower cup 1.5″ external
Weight
3.54 kg without shock, size M
Colours
Grey / custom painting -only: 349 €
Geometry
S,M,L / custom option -only: 429 €
Front suspension travel
180-200mm
Other
ISCG 05 chain tensioneer tab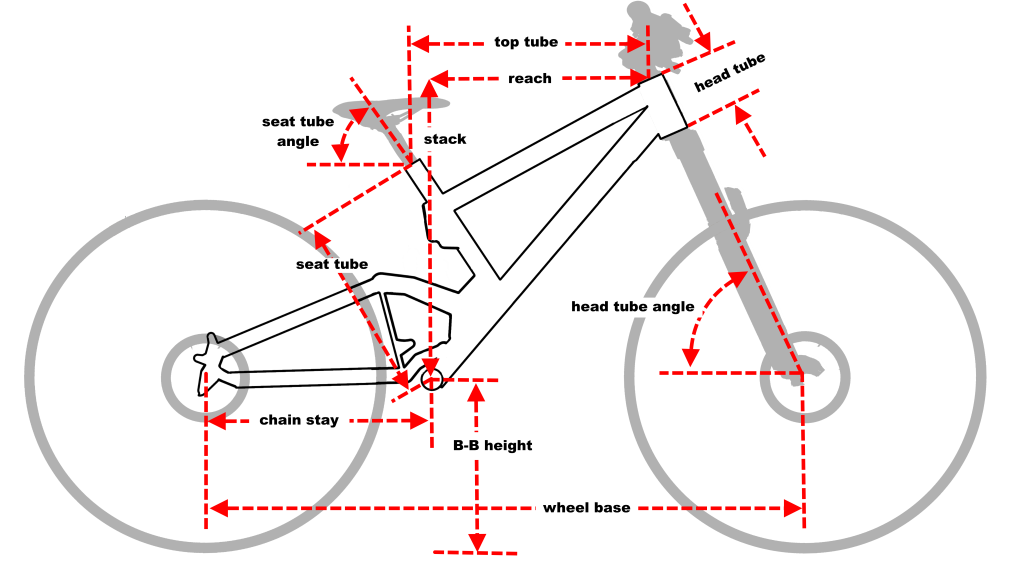 | | | | | |
| --- | --- | --- | --- | --- |
| | S | M | L | CUSTOM |
| Top tube lenght | 585mm | 600mm | 620mm | |
| Seat tube lenght | 429 | 432 | 450 | |
| Head tube angle | 65 | 65 | 65 | |
| Seat tube angle | 74 | 74 | 74 | |
| Head tube lenght | 118mm | 118mm | 118mm | |
| Chainstay lenght | 445mm | 445mm | 445mm | |
| B-B height | 350mm | 350mm | 350mm | |
| Wheel base | 1184mm | 1199mm | 1219mm | |
| Reach | 410mm | 420mm | 440mm | |
| Stack | 608mm | 608mm | 608mm | |
TECHNOLOGY OF ZUMBI BIKES "F" SERIES

Zumbi frames are 100% made of uniform, expensive and most durable aircraft aluminum 7020
No interference in the structure of the material, ensures its originality and ultimate durability
The most unrivaled advantage of the 7020 Alloy frame is its maximum rigidity while maintaining a low weight
Low weight of Zumbi F-22 frame – 3690g with shock for size (M)

Innovative concept of mass distribution with low center of gravity gives the possibility of spontaneous reaction, offensive characteristics, agile riding and clashes with bumps
Owing to the refined pattern of lengths of individual pipes, the rider has the ability to maintain a comfortable body position during a whole day or several days of riding
Optimally selected angles, allow good control of the bike in the bands and slips
Carefully selected, aerodynamic solutions optimize: driving dynamics, stability and control of the bike
We lowered the air resistance by reducing the aerodynamics – improving startup performance and riding comfort
TTechnology of the force system, combines the sum of internal and external forces acting on the bike while driving, and with the appropriate setting of the suspension parameters, precisely lead the cyclist out from the difficult situation on the track

The connecting elements are made by ultra modern CNC machines, and their construction, thanks to the appropriate technology and design, influences the exceptional side stiffness of the bike and saves further grams in the frame
Sensitive elements of the rear triangle are made using inlet technology

Suspension works in system with a virtual rotation point (FPS). It works in a progressive way supporting the work of the damper
Suspension is characterized by the lack of influence of braking on its function
The suspension is designed to increase pedal efficiency while eliminating chain jerking and suspension pumping

Internal cable lead, a method that guarantees easy servicing and freedom when steering the handlebars
Tapered head of the frame, ensures better bearing durability, allows the head of the frame to be connected to a larger diameter pipe, which has a significant effect on the rigidity of the bicycle, and also affects the weight of the entire frame
The 12mm rear hub and the use of a special hook provide the right connection of the wheel hub with the frame, which affects the stiffness of the rear triangle

Regardless of the painting method, top-quality varnishes are used, providing a fantastic color effect at the same time
Only aluminum frames are subjected to an electrochemical anodizing process consisting in the production of an oxide layer on the coating enabling the chemical substance to penetrate the coating together with the color into the frame structure, guaranteeing a 100% longevity



In addition, Zumbi Cycles bikes are equipped with the best components from FOX, Cane Creek, BOS Shimano, Race Face, Maxxis, DT.

Floating Pivot Suspension System
Full suspension – for the best riders
The passion for precision, combined with years of cycling experience contributed to the construction of one of the world's best mountain bike suspension systems- the FPS System. It uses four, perfectly calculated, pivot points that determine the initial and final leverage ratios; The FPS System stays fully active and isolated from braking and pedaling forces even on very hard terrain. It reduces to the minimum the possibility of losing precious seconds during a downhill race and fights for the podium.
The system is used in the following Zumbi Cycles frames and bikes: F44 27.5-inch (downhill); F22 27.5-inch (super enduro); F11 650B/27.5-inch (enduro / all mountain); F11 29-inch (trail / tour); as well as ZUMBI – BOSH E-BIKE and PINION system ones.
Kinematics
Thanks to precise calculations carried out in ZUMBI LAB and tests in the field, we created the technology of virtual pivot point, moving on the mathematical calculated curve. The Rider feels as if they were flowing and the FPS system responds to commands and obstacles, as though it was programmed in the bike. Gear ratios are selected so that the suspension from the beginning of deflection has a slightly progressive nature, offering increased sensitivity to small shocks and tactile progressions during high jumps, avoiding a sudden banging. Therefore the FPS system was described by the players of the Downhill World Series 'a cushion suspension system'
Technology
build the FPS system we use our technologies: CNC revolution, FT-7020, FT-parts. Therefore, all four pivot axles in bike are made from high quality materials such as titanium alloy or stainless 6Al4V CrM. All pivot points, rotate on high-class sealed bearings of enlarged diameter or optional ceramic (further reducing weight and guarantee higher efficiency in extreme conditions), thereby increasing their strength and vitality. FT-7020 technology is used to build the frame connectors, precisely cut from a block of material by CNC tools. (See CNC revolution) All these elements influence the extreme stiffness of the frame, which results in precise control of the bike under extreme overload.
C.O.G.
The operation of the system is supported by the damper precisely set and adjusted to the suspension curve. Owing to its appropriate location, we reached perfectly low gravity center -exactly where it SHOULD be – just under the racer. In this way the Zumbi bike is perfectly balanced, stable and agile, which gives a great feeling both while fast singletracks, jumping drops and taking bands.
Our video tutorials and training sessions will show you how to set the suspension parameters. Learn more … Follow us YouTube
SAMPLE SIZE
| | |
| --- | --- |
| FRAME SIZE: | HEIGHT |
| S | 166-178cm |
| M | 178-184cm |
| L | 184-192cm |
| XL | 193-201cm |
LIFETIME WARRANTY
Each our frame is carefully and meticulously handmade in Polish manufacture and thus we offer the possibility of lifetime warranty for the Zumbi a Cycles frame. In order to guarantee your bike lifetime warranty please send back the scan of Warranty Card filled in by the Professional Service on the following address: [email protected]
Within 30 days of the purchase
Next register your bike in the external anti-theft bike registration system.
Th final prerequisite is to pay the amount of 199 euros one-off verification fee in our bank account.
Bank account details are given at the link below (FAQ)
---
STANDARD FIVE-YEAR WARRANTY
The quality of our bikes is our top priority. That is why we offer a standard warranty totalling five years from the date of the purchase for frames of the 2016 edition and two years warranty for all bikes.
All terms and conditions are described in the user manual.
Click here for the warranty claim.
---
RETURN POLICY – fourteen days.
We do hope that your decision to purchase a bike was carefully planned and that you will want to keep it. We promise that in rare cases when the bike was not the one you wanted, we will help you return it without any complications. Please remember that our experts are at your disposal throughout the purchasing process.
Click here for the return within 14-day period.
Service
This is an incredible and prestigious service available to all of our customers who purchased a bike or frame. We give you the opportunity to change the image of your bike whenever you feel like it, but above all we take care of it and offer professional support service.
If you happen to replace the component in your timeless frame or just wish to repair it, even ten years from now- just send it to Zumbi. This is what the timelessness is about. Maintenance services are divided into paid and free ones, but our service is always there for you.
You can also use Shimano Service Center
Crash replacement
We understand that you push your bike to the limits, but accidents can happen. The warranty does not cover accidents. In such cases we offer a crash replacement program that allows you to obtain a new frame (without dumpers) or its parts in an inexpensive way. The option is available for the first owners of the bike and frames within three years of purchase.
Contact us, describe the crash and attach photos of the damaged frame. We will take care of your bike as soon as possible, so that you can further enjoy it.
We reserve the right to suspend this service in individual cases, if we determine that the damage was done on purpose.
Product Support
Option available for all of our clients. Our bikes are ready to be pushed to their limits, because they are supposed to give you a lot of riding emotion. Some frame parts wear out in a natural way, but you can buy spare parts in our web shop.